Leeland Thompson
Leeland Thompson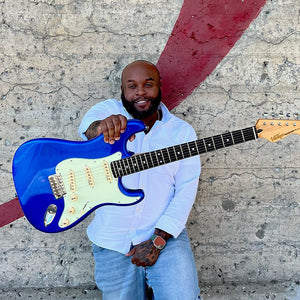 Mt Pisgah Baptist Church Olive Branch - aka "The High Place"
John P. Kee
Darrel Petties & Take 2

Leeland D. Thompson, born January 31, 1985 in Memphis, Tennessee. He has been a lead and bass guitarist since the age of 8. Thompson has played professionally since the age of 18. He serves as the lead guitarist for Mt Pisgah Baptist Church Olive Branch, also known as "The High Place". He is also the lead guitarist for John P Kee & Darrel Petties and Take 2.

Leeland has a vast resume of local and national recording artists that he's accompanied live and on wax. Those artists include, but are not limited to Darrel Petties(live recording 2009), the Sensational Wells Brothers(studio recording and live recording 2017), Full Gospel Baptist Church International via VaShawn Mitchell( live recording 2013), Alicia Diallo( live recording 2013), James Fortune and Lisa Knowles (single recording 2013), Pastor Marcus Newsom ( Live recording 2014), Pastor Darrel Petties and Take 2( Live recording 2016,2021), Lisa Knowles-Smith and The Brown Singers (studio recording 2016), The PC Band(studio recording 2020, LfloydMusiq Publishing).

He has also graced the stage behind various artists including The PC Band, Kurt Carr, Anita Wilson, Ledisi, Maurette Brown-Clark, Bishop Paul Morton, Karen Clark-Sheard, Dorinda Clark-Cole, Sheri Jones-Mofit and Ted Winn, Jonathan McReynolds, Yolonda Adams, Zacardi Cortez. He is currently on tour with legendary gospel recording artist John P. Kee and quartet gospel artist Darrel Petties & Take 2.

While Leeland is between tour dates he would like to share his gifts and give people an opportunity to learn from him or utilize his services.