Scott Sharrard
Scott Sharrard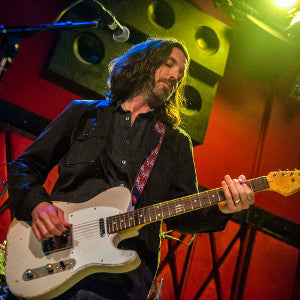 Scott Sharrard began his music career in Wisconsin in the early '90′s. He spent his teenage years attending Milwaukee's prestigious High School of The Arts by day, while playing in clubs and touring by night. During that time, he played with local blues legends the Stokes, Willie Higgins, and Harvey Scales, as well as such international blues and jazz luminaries as Buddy Miles, Melvin Rhyne, and Clyde Stubblefield.
How did you get started playing guitar?
My dad is a guitar player/singer/songwriter, the first thing he taught me at about the age of 10 was a Jimmy Reed shuffle pattern in A. It's still the best thing I ever learned to play! After that I learned some of his rep, Chuck Berry, Otis Redding, Jesse Colin Young, Dylan…the basics. Once I held down that rhythm that was it, I was hooked.
Tell us about your current gigs/tour?
Currently I'm the Music Director and Guitarist for the Gregg Allman Band. I've also written some tunes with Gregg and I've had the honor of having him cover some of my tunes. We've been together since 2008 and its been a very rich experience for me as his bands were part of the reason I ever believed I could even do this…My solo band is really ramping up this year. I'm going to Muscle Shoals to record at FAME studios with David Hood and Chad Gamble and then bouncing over to Memphis to record the rest of the new tracks with the legendary HI Rhythm section. Scott Bomar of the Bo Keys is co-producing with me. It's gonna be a real dream come true. We are also gonna tour all over next year, get ready!
How did you hear about VINTAGE Guitars?
Gregg Allmans tech last year was a great guy, Tim Wright, who's based out of Nashville. My man is like a connoisseur of affordable gear that kicks ass. When he told me how good these were I had to have one, Tim never misses and boy was he right. This is one of the best Tele style guitars I've ever played…
What do you like most about our guitars?
The V62 I have is like an old, perfectly molded pair of shoes. You slip that bad boy on and the music just starts coming out, it feels like a vintage axe. It doesn't have the comforts of these boutique axes but that's ok, it's kind of like a Ford Mustang, cheap and bad ass.
Any advice for players just getting started?
Listen to everything, every style, and find the true notes as a fan first, Get your ears as big as possible. Then when the time comes to step up and play in a band do the same. There's always something to learn if your ears are open, and there's always something to learn from the best players AND the worst players. Follow that mantra the rest of your life and you'll be fine. Also learn how to turn mistakes into ideas, once you can do that on the fly you might be getting somewhere. This style of music is not a precise art but it is a direct conduit to the soul and probably the greatest gift America ever gave to the world. Music always has to move forward but you've also got to look back and learn from all the masters. It's a life's journey. And also don't forget to enjoy it! Every single note counts.