Ronnie Gregg
Ronnie Gregg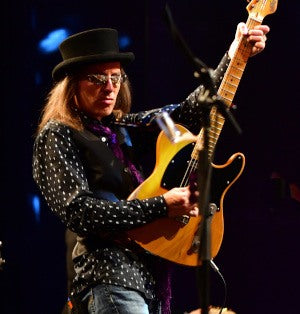 Born in Nashville, TN in 1978, Ronnie Gregg began playing guitar when he was 13-years old. Influenced by Eddie Van Halen, MTV and with a bit of instruction from his guitar-playing dad, he got a group of friends together, they wrote a few metal songs and shortly after played their first live show at a bar in Nashville.
Continuously honing his guitar skills Ronnie focused on writing original music and covering guitar spots in a variety of cover acts playing locally and the regional southeast. Frequently invited to lay down guitar tracks on demos and albums for multi-genre artists, including rap artist Jelly Roll, Ronnie's interest in producing music intensified. To date, he has co-written with, played guitar and bass for and produced several Nashville based acts.
1. How did you get started playing guitar?
I think it just runs in my family… My Dad, Grandfather and Great Grandfather were all guitar players, so it just came very naturally.
2. Tell us about your current gigs?
I am the front man for Southern Accents A Tribute to Tom Petty and The Heartbreakers. We have been playing all over America for the last year or so and having the time of our lives.
3. How did you hear about Vintage?
Through some mutual friends and Vintage Artists Phil Shouse and Jeremy Asbrock from Thee Rock n Roll Residency/Gene Simmons Band/ Ace Frehley band.
4. What do you like most about our guitars?
I truly love everything about the guitars. They look, play and sound great. They stay in tune, and never give me any trouble on tour. Totally in love with my V52 Tele and V6 Strat.
5. Any advice for players just getting started?
Practice, patience and just always believe in yourself.