Robert Mills
Robert Mills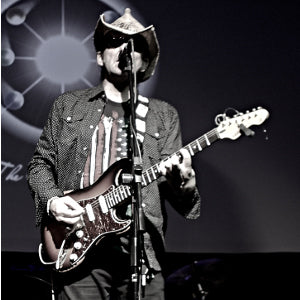 THE HAILERS band has been performing for over two decades playing venues throughout the United Kingdom, Europe and the US. Their new single "Luanne" is currently in the top ten of the Celtic Charts. The band is also featured in the 2011 Drama Documentary "Mr Nice". Their music will take you on a journey of love, adventure and more from the Mediterranean beaches of Spain to the Mississippi Delta. Their rock-n-roll roots are mixed with influences of Celtic, Blues, County and Flamenco which are all predominantly present on their latest CD release "Thirteen Souls".
How did you get started playing guitar?
I was drawn to music at a very early age. I used to tune into radio Luxembourg and pic the upcoming hits. I always loved music and took some piano lessons. Then I saw Hank Marvin & the Shadows playing at a theatre in Cardiff, and I thought, that's for me! Yep, an Electric guitar, that's what I want! So I found a second-hand guitar and amp and started to learn chords.
Tell us about your current gigs?
Currently I've been playing some nice theatre gigs with Scott Page from Pink Floyd who has also been sitting in with my band The Hailers. We are supporting name acts like The Rascals, The Motels, The Baby's, The Alarm, John Kay, and Steppenwolf.
How did you hear about Vintage Guitars?
Well nearly every year I go to the NAMM trade show in Anaheim. I tried the guitars at the show and liked them a lot, so I started buying them and bringing them home. Now I have five VINTAGE guitars and two basses.
What do you like most about our guitars?
The rustic old school look and feel and I just love how they sound.
Any advice for players just getting started?
Get a VINTAGE V52 guitar! One, the price is right. Two, you sure get a lot of bang for the buck. And three, it plays and stays in tune!