Philip Shouse, Jeremy Asbrock, Ryan Cook
Philip Shouse, Jeremy Asbrock, Ryan Cook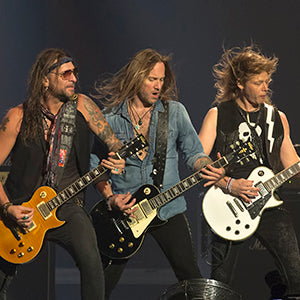 Philip, Jeremy and Ryan scored their dream gig with Gene the old fashioned way, Through their love of Kiss' music and friendships they developed as players in Nashville's fertile rock scene. Ryan first met Gene in 1996 while living in LA. After moving to Nashville, his band Big Rock Show was invited to perform at the 2011 Kiss Kruise. One of their guitarists couldn't make the gig, so Ryan asked Philip if he could fill in. Philip was on tour with country artist Rodney Atkins at the time and couldn't make it, so Philip recommended his good friend Jeremy. This Big Rock Show gig led to many more Kiss Kruises for Ryan and Jeremy.
In 2014, Philip and Jeremy started 'Thee Rock & Roll Residency' playing their favorite rock tunes from the 70's and 80's. Performing every Tuesday night, they would invite many of the city's legendary players, and visiting artists to sit in with the band. Ryan became a regular at these gigs and this led to 'Thee Rock & Roll Residency' tour dates where these three friends would begin to hone their massive triple guitar sound.
On Kiss Kruises, Gene Simmons would often hang out and watch the bands. After a Big Rock Show gig on a cruise in 2016, Gene approached Ryan about putting a band together for him to do a short Gene Simmons solo tour. Ryan immediately recommended Philip and Jeremy. They got together in Nashville for rehearsals and took to the road. This initial short tour led to more dates being added, then turning into a full blown world tour.
In between tour dates with Gene Simmons, Philip, Jeremy and Ryan can be seen playing together in 'Thee Rock & Roll Residency' on Tuesday nights at the historic Mercy Lounge in Nashville.
most about our guitars?
Ryan Cook
As I said before, it just feels so familiar and right. I'm certainly a creature of habit, not always welcoming change. I'm a big advocate of the "If it ain't broke don't fix it" school of thought. I was pretty much convinced that I'd never love anything as much as my Les Paul Custom. Once I was introduced to Vintage I learned that there WAS something else on the market that was highly comparable to what I was used to. What pushed me over the edge was the Vintage staff themselves. Highly professional, accommodating, friendly people with an excellent product. They are now family 🙂
Philip Shouse
The playability. I have a V6 (yeah, the first one I grabbed) and a V100. They've quickly become favorites. They have the classic look and they just play great. They feel broken in and old. AND THE PRICE?!?!?! I don't understand how a company can put out such high-quality instruments at such reasonable prices when some major companies put out absolute garbage and charge a fortune for it.
Jeremy Asbrock
I like how comfortable they feel. I like how affordable they are for people that want a great guitar but can't afford the expensive stuff. It's twice the guitar for a third of the price! My V100 feels every bit as good as my Gibson.
Any advice for players just getting started?
Ryan Cook
Don't get pigeonholed. Don't worry about what's 'cool'. Explore every genre and try to emulate a musical sponge as much as possible. The advice I'm giving is the advice I wish someone would have given me at a young age. Also, always try to surround yourself with players more experienced than yourself. Nothing makes you better than having to keep up with the Big Dogs.
Philip Shouse
Play, play, play, and listen, listen, listen. For those just getting started on the instrument, play with other musicians as often as you can. For those just getting started in the business end of it (or thinking about it), never turn down a gig you don't already have. Unless you're busy doing another gig.
Jeremy Asbrock
Playing is like any muscle… you have to keep doing it. It can be frustrating sometimes, but breakthroughs happen, and when they do… there's nothing like it! And never forget that it's fun!