Philip Shouse
Philip Shouse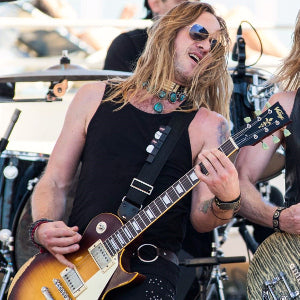 Born in Decatur, Alabama, Philip Shouse became interested in music by listening to his older brother's record collection. His obsession with the guitar began in high school with recordings like Aerosmith's Live! Bootleg and Van Halen's debut album. He moved to Nashville in 2004 and in no time, was touring with Chris Cagle, Bo Bice, David Lee Murphy, Mindy McCready, Rodney Atkins and many more. Philip's own band 'Thee Rock 'N' Roll Residency', has become a major weekly event in Nashville where he and a revolving group of famous rockers, play a varied collection of 70's rock. He is currently touring in Gene Simmons solo band, and with John Corabi.
How did you get started playing guitar?
The gatefold of Aerosmith's "Live Bootleg" album changed my life. I would stare at that photo collage for hours. HOURS. Of all the amazingly rockin and rollin photos in there, one stood out. Joe Perry, facing the drums, with his back turned to the camera, leather pants tucked into cowboy boots, Les Paul on his back while playing a Strat. Done. I had to do that.
Tell us about your current gigs/tour?
I am co-founder of Thee Rock 'N' Roll Residency, a weekly show of the best (and, most of the time, kind of obscure) 70's hard Rock n Roll that has been going on in Nashville since April of '13. We've been fortunate enough to have some of the people responsible for that music stop in and play with us. Alice Cooper and band, Roger Glover & Don Airey of Deep Purple, Robin Zander of Cheap Trick, Sylvain Sylvain of New York Dolls, Rachel Bolan of Skid Row, Kip Winger, to name a few. We also tour regionally and play some cruises, as well. I'm also in Gene Simmons' solo band, which is very exciting, considering what a MASSIVE KISS fan I am. I play for one of the best rock singers out there today, John Corabi (Mötley Crüe, Dead Daisies, The Scream, Union), as well. For the past 10 years, I played guitar for several country artists (Rodney Atkins and David Lee Murphy, to name a couple). I'm freelance, so my gigs and bandmates change from week-to-week, always keeping me on my toes.
How did you hear about VINTAGE Guitars?
I stopped into my favorite shop in Nashville, British Audio, and grabbed a black V6 off the wall and was blown away. "This beats my main axe !!!!!", I thought to myself. I winced when I looked at the price tag, and then got even more blown away.
What do you like most about our guitars?
The playability. I have a V6 (yeah, the first one I grabbed) and a V100. They've quickly become favorites. They have the classic look and they just play great. They feel broken in and old. AND THE PRICE?!?!?! I don't understand how a company can put out such high-quality instruments at such reasonable prices when some major companies put out absolute garbage and charge a fortune for it.
Any advice for players just getting started?
Play, play, play, and listen, listen, listen. For those just getting started on the instrument, play with other musicians as often as you can. For those just getting started in the business end of it (or thinking about it), never turn down a gig you don't already have. Unless you're busy doing another gig.