Peter Baltes
Peter Baltes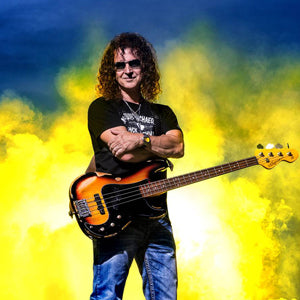 Born on 4 April 1958 in Solingen, Germany, Peter Baltes is the long-standing bassist of heavy metal band Accept, featuring on all their professional recordings and selling 30 million records around the world. He started his music career when he was young and was voted as the number one bass player in 
Burrn Magazine
 reader's poll of 1985 and voted best bass player in Europe by 
Metal Hammer
 magazine in the same year.
1. How did you get started playing bass?
My first band had three guitar players. So we drew sticks and I lost. It was that simple. Somebody had to play bass.
2. Tell us about your current gigs?
Well, I have been with Accept for over 35 years. I am also writing a lot of production music for radio & TV.
3. How did you hear about Vintage?
A friend of mine got himself a Vintage bass and loved it. I have been looking for some time to find a company who can build me a bass that comes as close as possible to my 1959 P-Bass. Vintage did just that.
4. What do you like most about our basses?
Many things. Most of all the craftsmanship. The tone is awesome. Plus my bass has the right weight against my body. Also, I absolutely love the vintage look.
5. Any advice for players just getting started?
Yes. Don't just sit in your room and play along to YouTube. Find some friends and practice as often as you can. That makes you a way better player and keeps you out of trouble.