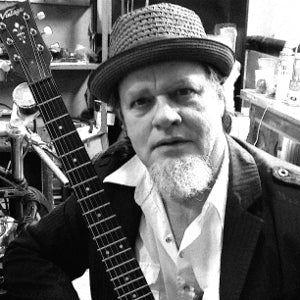 Nick's career started in the early 70's in Germany, playing in German and British rock bands. He played 1000's of gigs in nightclubs and bars, learning the ropes the hard way.
By the mid-80's he was living in Miami, Florida, playing, touring and making records in local bands such as The Preachers and IKO IKO. The late 80's found him in a backing band for blues legends Pinetop Perkins, Hubert Sumlin, Jimmy Rogers and others. That gig took him around the world for the 1st time.
How did you get started playing guitar?
I started young, about 7 or 8. There was a lot of music in my house and I wanted to be part of it. My dad was always playing show tunes and old folk songs and my older brother was into rock'n'roll and r'n'b. There was always a lot of classical music as well. I played acoustic guitar until I was about 14. After that it was all electric.
Tell us about your current gigs?
My main gig now is with the Smoky White Devils, a band with my friends Richie Owens, John Reed and Mike Ferguson. We call it NOS music, as in New Old Stock. It has a vintage feel and sound, from heavy blues rock to East Tennessee hillbilly boogie with some Delta blues and folk rock thrown in. We've been playing around Nashville this year and are about to release our 1st record.
How did you hear about Vintage Guitars?
I've known about Trevor Wilkinson and have been using his parts for a long time. I read about the guitar company a while ago in the trade magazines. When they became available here in Nashville I gave them a good spin and was floored!
What do you like most about our guitars?
Well, speaking about my V130, everything is 100% spot on. From the thickness of the body to the neck angle, neck profile, balance and feel, I couldn't ask for more. It looks great, too. The pickup has that mid-range squawk up high on the neck and in the open position it gives you that throaty, extremely satisfying P-90 roar. It's a rock'n'roll machine!
Any advice for players just getting started?
Learn the basics then make music. Learn and play your favorite records. Go back to the classic records of the 50s, 60s and 70s. That's where it all started. Get out of the house and find people to play with!