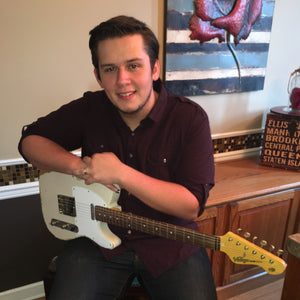 Levi Bowman is a vocalist and the electric and acoustic guitarist for The Isaacs. He is the son of Rebecca Isaacs Bowman and John Bowman. He has been a full-time member of the group for two years. Levi recorded his debut album in June 2016. He had several prestigious guests on this project such as Vince Gill and Jimmy Fortune. He debuted his project on the Grand Ole Opry in the same year. Levi, along with the Isaacs has been a member of the Gaither Homecoming tour. He's also made appearances on many of the Gaither videos. He has traveled and performed in many states as well as abroad. Levi is an active member of the praise team at Celebration of Life Church in Hendersonville Tn. He is very passionate about music and strives to maintain excellence in all of his career endeavors.
How did you get started playing guitar?
When I was about 4 years old my father and my uncle always watched "Stevie Ray Vaughan at Austin City Limits". I was mesmerized by his playing as a child and I wanted to play just like him. As I grew older, I started falling in love with music and getting more serious about playing guitar. About 10 years ago, my parents bought me my first electric guitar for Christmas. I wasn't very dedicated to learning until I was about 15 years old and it was then I really started to learn to play.
Tell us about your current gigs?
Right now, I am playing electric guitar for my family's group, "The Isaacs". They are a Grammy and Dove nominated group. I've traveled with them all my life. I've been playing with them full time for a year and a half now. I also enjoy getting to play guitar at my home church, Celebration of Life. I get to play these two gigs, while trying to start up my solo career.
How did you hear about Vintage Guitars?
I heard about Vintage Guitars through two great musicians. These guys are a part of the Vintage family, Michael Spriggs and Jimmy Capps. They are two phenomenal musicians I look up to and I knew if they were playing these guitars, I had to get hold of one. The first Vintage Guitar I ever played was the V52 and I was blown away!
What do you like most about our guitars?
What isn't to like about them? I love these guitars. I have six in my collection. The quality of these instruments is incredible. They're affordable for everyone and the uniqueness of each of the guitars is simply amazing. I will always be an advocate for Vintage Guitars!
Any advice for players just getting started?
Be you! Don't try to imitate other players. It's okay to have heroes and people you want to model your style of play after, but at the end of the day, make it your own. There are so many players out there and you have to find a way to be unique. Uniqueness is what will make you stand out above the rest. Practice every day, play anytime you get the chance, and don't get frustrated. Most of all have fun and embrace the beauty of making music!