Kevin Cummings, Mychael Allen, Jabari Johnson and Simeon Baker
Kevin Cummings, Mychael Allen, Jabari Johnson and Simeon Baker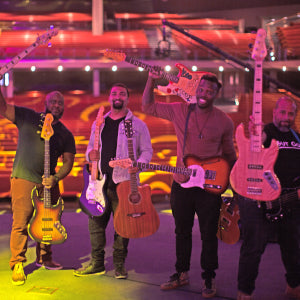 Kevin Cummings, Mychael Allen, Jabari Johnson and Simeon Baker are members of the Potter's House 12-piece band that has garnered national acclaim, winning a Grammy Award for the 2003 CD release entitled, "A Wing and a Prayer," among other honors. The Potter's House campus in Dallas uses about 117 mix inputs at any given time for the main band, 100-150 voice choir, 9-12 praise team singers, playback from video, playback for miscellaneous tracks, 6 Pro Tools lines, Bishop's mic and a backup, and 6-8 handhelds. Potter's House worship services are very unique and spontaneous with the band continually expanding its repertoire from contemporary gospel to soulful classics.
Cited as one of the fastest growing churches in the nation by Christianity Today, The Potter's House in Dallas, Texas has evolved from 50 families to more than 30,000 members since opening in 1996. The megachurch prides itself for staying on the cutting-edge of technology, from its main sanctuary to the broadcast command center, which distributes materials and messaging to two satellite campuses as well as simulcasting online to an audience of around 10,000 connections for its weekly Sunday services.
How did you get started playing bass/guitar?
Kevin Cummings
Growing up in church I was always fascinated with the sound of music. I started off being a drummer and that passion leaped over to the bass guitar. There was a service where I was on drums and there was another choir there to sing. They performed a song called Watch God Move by Colorado Mass Choir and their bass player was in that groove so hard and I never knew a bass guitar could sound the way that bass player made it sound. From that moment on I was hooked and I've been on bass guitar ever since.
Mychael Allen
I was introduced to guitar at about the age of five by my grandfather but really started getting serious about learning the instrument when I was 12.
Jabari Johnson
I started playing guitar at the age of 3. My brother (Nicholas Johnson) and I started playing around the same time so we would always learn different songs and techniques and teach them to each other. Growing up in Norton Temple C.O.G.I.C my godfather the late Superintendent Swindell would always encourage us to keep playing and learning no matter who tried to stop us.
Simeon Baker
I started playing in my church, The House of God, youth choir when I was 16. I remember saying for an entire year that I was gonna play the bass and on my 16th birthday, I took my uncle Micah's bass to our youth choir rehearsal. I've been playing ever since.
Tell us about your current gigs?
Kevin Cummings
I serve as an instrumentalist on bass guitar at The Potters House of Dallas. I also perform and play with a number of artists and performers in the city and with a cover band.
Mychael Allen
I'm currently on staff as a guitarist/band leader for the youth department at The Potters House of Dallas. I also do gigs around the Dallas Fort Worth area from time to time. I'm currently working on my on instrumental record set to be released November/December 2018.
Jabari Johnson
I'm currently the guitarist at The Potters House in Dallas, TX under the leadership of Bishop T.D. Jakes, I play for Tye Tribbett, Ricky Dillard and I'm also signed to eONE. My new record Day of Redemption is available at all digital media outlets.
Simeon Baker
I currently do mostly studio sessions, but from time to time I go out with my bro VaShawn Mitchell. Now my main post is at the Potter's House Dallas where the Bishop T.D. Jakes is Senior pastor and I dare not call it a gig. It's much more than a gig. It is an assignment from God.
How did you hear about Vintage Guitars?
Kevin Cummings
I was introduced to Vintage Guitars through my experience at NAMM 2018.
Mychael Allen
I was introduced to Vintage by our drummer at the church Terry Baker, he had said "hey check this brand out." Upon doing my own research about the company I was excited to check out their products.
Jabari Johnson
Terry and Simeon Baker introduced me to Vintage Guitars.
Simeon Baker
My brother Terry Baker visited the Vintage US distributors in Fort Worth and immediately sent me pics of the guitars and basses and said it was a must for me to get there and I'm so glad I did.
What do you like most about our guitars?
Kevin Cummings
I love the feel and craftsmanship of the bass guitars. They feel really good in my hands from the neck profiles to the body as a whole. They are so easy to play. The jazz bass has a very nice warm punchy sound and vibe to them. I love the growl they give off. The V4 bass has an unbelievable round thick passive tone to them that makes me groove just like I know how! And I appreciate how the techs take the time to perfectly set up the basses and guitars. They're like butter in my hands!
Mychael Allen
I love the fact that you are getting a great quality instrument at a very affordable price. Usually you have to sacrifice one or the other but with these guitars I don't feel like you have to compromise either. I currently own the V6 Icon electric and the VEC501MH acoustic. I look forward to adding more of these great guitars to my collection.
Jabari Johnson
For years I've been trying to find that "IT" factor when it comes to tone and the first time picked up a Vintage Guitar I knew that I'd found "IT"! and lets not forget that the relic'ing on the guitar is the icing on the cake. I'm very big on things that stand out while I'm on stage so I had to get the Vintage V6M24 in Seafoam Green! OMG! It's a beauty. The tone is phenomenal and the body has perfection written all over it.
Simeon Baker
What I enjoy about these basses is the playability of them straight out of the box. Now the tones I'm capturing from these basses are blazing. I actually can't believe that these basses are passive. They have so much power! BLAZING!!! LET'S NOT FORGET THE PRICE!
Any advice for players just getting started?
Kevin Cummings
Repetition is the "Mother" of all skills! When you're just starting your journey on guitar or bass practice is very crucial. When a skill becomes 2nd nature to you, that's how you know you got it down. Keep rocking fellow BassFrats!
Mychael Allen
Study and put in the time it takes to really learn your craft. Don't be afraid to immerse yourself in multiple styles and genres of music, it will only serve to help you in the future. In this day and age, information is out there, and most of the time freely given so there's no excuses to not be able to go after your dreams.
Jabari Johnson
PRACTICE! PRACTICE! PRACTICE! Kobe Bryant said it best! "You have to remember to always be a kid." Kids ask questions! Anything a kid doesn't understand they aren't hesitant about finding the answer. I feel that if this same concept is applied to how we learn every detail about our instruments it will become second nature. Learning the proper fingering techniques and different scales is a MUST if you want to be a great musician. My last piece of advice is, don't let anyone tell you what you can't do. If God has placed the desire in you and you work hard towards achieving that goal, I promise you there's nothing that can stop you. KEEP SETTING GOALS! KEEP STRIVING! NEVER GIVE UP!
Simeon Baker
My advice for anyone getting started is to try and listen to different styles of music and respect it. You can learn from all. Listen and try to play it all. I'm a strong believer in the power of God so I dare not let any opportunity go by without saying anything about my savior Jesus Christ. In that time of speaking that I was gonna play bass, who I was speaking to was God and He made it happen. My advice to everyone is to get a relationship with God and acknowledge Him and watch and see what kind of player you become. Peace!