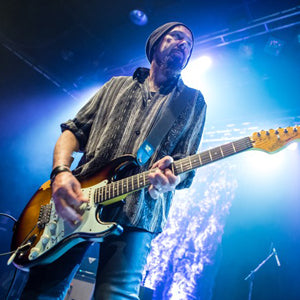 Born and raised in Southern California, Jon took an interest in the guitar at a young age. He taught himself how to play the instrument and formed his first band at the age of 15.
Over the next years he was playing professionally in different bands and did numerous recording sessions. With thousands of gigs under his belt, he secured a record deal with Thump Records in 2000, with his band Shovelhead.
Upon the release of their first album, 
Music From The Canyon
, he received a phone call from Grammy nominated singer-songwriter Beth Hart, who was in need of a guitar player.
Jon has been her right-hand man ever since, being her musical director and lead guitarist.
He has toured all over the world with Beth Hart, performed on numerous television and radio shows and has been co-writing with her for over 16 years. He has been lucky enough to share the stage with the likes of Jeff Beck, Slash, and Joe Bonamassa, to name a few. While not on tour with Beth Hart, Jon Nichols, guitarist, fronts The Jon Nichols Band and does solo-acoustic performances. Jon is currently using the Vintage Icon Series V6MRSSB and V52MRBS guitars as part of his main touring and recording setup.
How did you get started playing guitar?
Like so many others I have to say it was the Beatles and Stones that got my attention. From the melodies to the songwriting and the killer guitar parts…then the guitar heroes of Beck, Page and Clapton, really turned me onto a whole sound of guitar playing. Then the list continued from there!
Tell us about your current gigs/tour?
I am the musical director and guitarist for Grammy nominated artist Beth Hart. I have been her sideman for over 17 years, having the luxury of working with one of the best vocalists and songwriters of our time. Also numerous co-writing and recording and touring all over the world. Beth is amazing to work with, she lets you express yourself as a player which creates freedom to be yourself.
How did you hear about VINTAGE Guitars?
Touring in Germany I checked out a guitar shop (which I do a lot!) and saw the Vintage Icon series, and was blown away how great they felt and played.
What do you like most about our guitars?
At first look I was hooked, they had all the elements of what I think a guitar should look like. And the way they played was second to none, and great tone!!!! Trev and everyone at vintage made a truly great guitar!!!! Hats off to to you guys!
Any advice for players just getting started?
Patience!……. If you enjoy it stick with it, don't force it, play from your soul and the rest will follow. Growing up I spent hours on end in my room playing along with the recordings of the artists and bands I was into and, besides technique, your ears start listening in ways they didn't before..and it's great way to learn to keep time with the music. It was great, even now I still do it. Once you get the basics down, start playing with other musicians, you're constantly learning from each other…..and make it fun!!!! That's what it's all about!