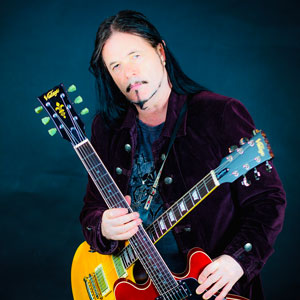 John Payne is an English vocalist, bassist, guitarist and producer known for his work fronting ASIA, ASIA Featuring John Payne, GPS, The Rock Pack and Dukes of the Orient.
His foray into the music scene started with backing vocals for two Roger Daltrey albums in the 80's. He later got chosen to replace Jeff Lynn in ELO but subsequently joined ASIA in 1992.
Asia
After the departure of John Wetton, Geoff Downes invited Payne to join the band in 1992 as lead singer, bassist, co-writer and co-producer. Payne continued together with Asia for 15 years, touring and recording 8 studio albums.
Asia featuring John Payne
Since 2006 John now tours and records under this new moniker.
Dukes of the Orient.
Payne and Erik Norlander (also of ASIA) reunited to form the group Dukes of the Orient as a new band name for material that had been 10 years in the making.
Their debut self titled album was released in 2017.
After co-creating and fronting the Vegas show, Raiding The Rock Vault, in 2012, Payne tours to this day with his creation, The Rock Pack, a show featuring iconic classic rock vocalists.
How did you get started playing guitar?
I started around 8 years old. My uncle, who actually was a Mayor of London, could play anything, and he gave me this cool semi Hofner/semi-acoustic guitar. I destroyed my parents record player by plugging it into the phono input to get a distorted sound. When I was about 9 all these guitarists started appearing; Hendrix, Townsend, Santana, Green, Page, Kossoff, Beck, and Clapton. It was a pretty damn inspiring era for a young kid. Most people know me as a bassist but guitar was my first instrument.
Tell us about your current gigs?
I'm currently touring with three main shows. Asia Featuring John Payne (sounds weird I now but that's how I contractually continued with the name after 15 years with ASIA).
The Rock Pack, a band I ringmaster with featured lead vocalists from classic rock bands such as Foreigner, Night Ranger, Blue Oyster Cult, Santana, Journey, The Outfield, The Tubes and Cheap Trick. It's a fun show plus I get to play Carlos Santana's guitar parts with Gregg Rolie. It's an incredible bucket list for me to play with all these iconic vocalists.
Our third show is an evening of ASIA and FOREIGNER music with Lou Gramm, the original voice of Foreigner. It's a blast and 90 minutes of classic hits.
How did you hear about Vintage Guitars?
I was looking through Reverb, the music ad site, and saw this beautiful lemon burst distressed guitar and I was hooked.
What do you like most about our guitars?
Vintage guitars to me press five buttons. They look great, they play great, they sound great, they are affordable and it stops me taking out precious or valuable guitars on the road.
Any advice for players just getting started?
Rather than start with a shredder, just take a listen to those iconic players from the late sixties. Think about tone and vibrato and not just how fast you can play. Also get together with other players to learn how to play sympathetically, and learn song structure. It doesn't matter how good you are if there is no song!