James "Roto" Rotondi and Dave "Bucket" Colwell
James "Roto" Rotondi and Dave "Bucket" Colwell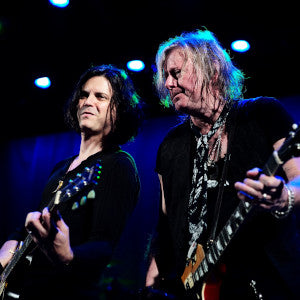 James "Roto" Rotondi plays lead guitar for Humble Pie, Hundred Hounds, The Cringe, and is the singer, songwriter and guitarist for Roto's Magic Act, whose 2014 album "Into the Unknown" has been praised by Guitar Player, Blurt Magazine, The New York Observer and more for its "masterful songwriting" and "cinematic guitar tones." He also composes music for television, writes about the creative process for Acoustic Guitar, Guitar World, American Songwriter and many more, and conducts music-based team-building events around the world for SongDivision. A former member of the acclaimed bands Mr. Bungle, Air, Trilon, and The Grassy Knoll, he currently lives in Nashville, Tennessee.
Dave "Bucket" Colwell's CV boasts some of the most stellar names in Rock. Born in Enfield, North London, Dave started playing guitar at the age of eight. Classically trained, and inspired by the likes of Paul Kossoff, Mick Ralphs & Steve Marriott, he was soon forming bands and playing local venues.
1. How did you get started playing guitar?
Dave:
I first picked up a plastic Beatles guitar at about 4 & my parents got me a real one at about 6. I then started classical lessons a few years later.
James:
I had begun playing as early as second grade, when my parents decided I should attend summer school (NO!), and somehow the guitar class seemed a good idea, as we had my sister's old nylon-string guitar in the house and no one to play it. So grumpy was I about this unfair sentence that I literally dragged the thing to school and back every day, so that it ended up with a large hole in the back. These days they would call it an "innovative design feature".
That class laid a good groundwork, and I did learn chords and how to even read simple passages, but I wasn't exactly passionate about it. But again, in fourth grade, I was punished again: this time by being grounded for two-months IN THE SUMMER, for being brought home in a police car, after my buddy and I were caught "breaking in" to the famous big, black, abandoned haunted house by the beach that everyone said had ghosts in it. We were just being daredevils, but my parents did not see it that way. Happily, to pass the time, my sister was instructed to begin teaching me guitar again, and this time, under the spell of songs by The Beatles, CSNY, Neil Young, Jackson Browne and others, it found my heart. A few years later, my older brother played me Deep Purple's Made In Japan, and I have never fully recovered!
2. Tell us about your current gigs?
Dave:
I am currently touring with a new incarnation of one of my favorite bands EVER, HUMBLE PIE. I was with them in 2000, recording an album BACK ON TRACK. This new line-up is endorsed by founder member JERRY SHIRLEY to bring the music live to fans, old & new, in a most respectful way, keeping the legend of a PHENOMENAL ROCK'n'ROLL Band alive. I have also just released an album by my band BUCKETS REBEL HEART. '20 GOOD SUMMERS' is available on PRIDE & JOY RECORDS through our facebook & Youtube sites as well as itunes/spotify etc.
James:
Given that 70s guitar rock is my natural home (along with 70s singer-songwriter stuff), I couldn't ask for a better gig than playing alongside former Bad Company ace Dave "Bucket" Colwell in this marvelous new incarnation of Humble Pie, directed and overseen by the Pie's original drummer and co-founder Jerry Shirley. For me, only a handful of bands from that era—Thin Lizzy, Aerosmith, Iron Maiden, and perhaps Wishbone Ash come close to the twin-guitar genius of Humble Pie's Steve Marriott and Peter Frampton. Perfect foils: Marriott, meaty, dirty badboy British blues meets Frampton, all lyrical jazz-like modal runs and funky chord outlining. With singer Jimmy Kunes just really nailing the essence of what made Marriott the best singer in rock (yeah, I said it), well, the gig is 90 minutes of pure guitar nirvana for me every night.
In addition, I've got a terrific new album in the can, called Heroics, with my own heavy rock four-piece, Hundred Hounds, which I founded in NYC about four years ago, and am touring quite a bit with my longtime pals in The Cringe as well: we'll be opening a slew of dates for both Tesla and Queensryche in early 2019. I'm also involved with a great company called Songdivision that sends me around the country and the world leading songwriting and jam sessions for big corporate events with killer players and singers from the US. We've done this with everyone from American Express to GoodYear and it's always a blast: almost a rock and roll fantasy camp for the corporate set.
3. How did you hear about Vintage?
Dave:
I was introduced to Trevor & Dennis from JHS at the Frankfurt Music Messe show by my friend Geoff Whitehorn. Instantly impressed, I got a Lemon Drop & a V52 (I had a Fishman Powerbridge fitted also).
James:
Before I even moved to Nashville three years ago, I had a lot of mutual friends telling me I had to take part in Thee Rock N' Roll Residency, led by the super-talented Philip Shouse and Jeremy Asbrock of the Gene Simmons and Ace Frehley bands, both Vintage guitar users, and one night, when I got up to sing and play David Bowie's "Hang on To Yourself" with them, I was struck by the wonderful Les Paul-style guitar that Jeremy put in my hands as I got on the stage. The thing just played great, the sound was popping and powerful and pleasant, and it looked like a million bucks. Later, of course, when he told me about Vintage, and how they were able to make these fantastic guitars at such an incredible value, I'm sure they heard me across the bar when I yelled, "Wait… HOW MUCH?!" I own three V100s now, two Icon Series and one V100 with a custom three-pickup design based on Frampton's guitar, and I just love them all. And so does everyone else!
4. What do you like most about our guitars?
Dave:
I love the playability of the guitars and TREV WILKINSON's pickups are some of the best I've used! They come ready to play straight from the box and are reliable on the road.
James:
Honestly, a better question would be what do I not like: the answer would be, nothing. I mean, the tasteful relic job on the Icon MRTSB and MRCS that I own pretty much sells the guitars instantly. They're just gorgeous. And that satiny, old feel to the tops is fantastic. Beyond that, the necks are crafted and shaped beautifully for my hands, and the pickups—whether you're using the Vintage Voiced or the PAF-style—have incredible vintage character and plenty of huevos. I can tell you that I brought two guitars on tour with Humble Pie: my Vintage V100 MRTSB, and a 2004 Gibson Les Paul Standard. People would ask me which one was the "backup." That changed every night. I ended up actually playing the Vintage V100 MRTSB far more, and using the Gibson as the primary backup, but the point is, I saw no distinction between them in terms of quality, sonics, playability, good looks, the enjoyment of playing them, and the way they pulled massive, 70s-approved rock tones out of my 50-watt half-stack. So to sum up: Brilliant pickups, meaty sound and feel, gorgeous aesthetics, and necks that take your hands where you want 'em to go—Vintage guitars are more than just great values: they're superb instruments in their own right."
5. Any advice for players just getting started?
Dave:
My advice for someone starting guitar would to 'get a Vintage guitar'. These guitars are the real deal with a good sound & 'more importantly' set up with intonation etc making the guitar respond as it should. Some other make guitars in this price range are shocking and will hinder a new player.
James:
Yes, enjoy every minute that you get to play the instrument; not only the dreams of what you might achieve in the future, but the joy and exploration of learning as you go, and watching the wheels click into place when you learn something new. Challenge yourself to learn parts and solos that move you, either via Truefire.com, or YouTube, or even by slowing down tracks using programs like AnyTune. Music is like a language, so you want to learn as much vocabulary as you can, so you always have the right thing to say at the right time. And get a great, professional-grade, badass instrument that you can afford. I may know a guitar company that builds them…