Gregg Wright
Gregg Wright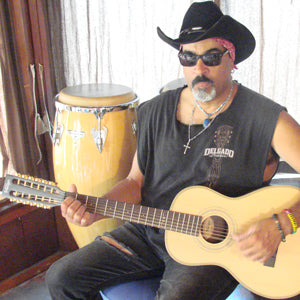 Gregg Wright, began his professional career on the U.S. Southern circuit in the mid-1970's. He honed his craft with years of playing endless one-nighters across the Carolinas, Georgia, Alabama, Florida, Louisiana and Texas, often opening shows for the big national touring acts of the day. "I was privileged to work and learn around greatness!" says Gregg. "I opened several times for Albert King and Freddie King, and learned a great deal from them. Their words of encouragement really energized me. I owe them a huge debt of gratitude!" An '80's move from Louisiana to Los Angeles saw Wright become a session man and "hired gun" touring guitarist. His reputation grew over the next decade doing albums and tours with Mick Fleetwood, Michael Jackson, the Gap Band, Berlin and Spencer Davis.
How did you get started playing guitar?
I got interested in bands around the age of 13, at the teen center dances they had on Sheppard Air Force Base up in Wichita Falls where my Dad was stationed at the time. It was a time when loud, psychedelic Rock guitar was first happening. I was completely blown away by all that, and realized I absolutely had to get a guitar, which I did shortly thereafter.
Tell us about your current gigs?
Right now, I'm doing a lot of session work around L.A. I also play a lot live gigs and festivals in
Europe, the U.K., Canada and across the U.S.
How did you hear about Vintage Guitars?
I kinda discovered them myself. I was doing a demo for Fret-King at NAMM a couple of years ago. There were some really nice looking Vintage instruments sharing the booth with Fret-King. So on a break, I thought I'd try a few of them out. They were all excellent guitars, but the Paul Brett 12 string really blew my head off! I'd never played an acoustic 12-string quite like it!
What do you like most about our guitars?
They are all such well-crafted instruments of outstanding quality, affordability and playability. I would call the Paul Brett a real precision instrument. I've never played a 12-string with such an accurate feel and intonation. The intonation is spot-on all the way up the neck. Then, there's that
rich, deep amazing sound!
Any advice for players just getting started?
Practice and play at every opportunity. Listen to as much music, new and old, as you can. It's also very helpful to learn some theory and reading. The real key though, is to play enough to where your instrument becomes second nature. Because when that happens, you've found your own voice!