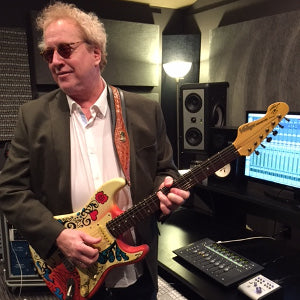 As a legendary record producer and well-known international film and television composer, Fred Mollin's busy schedule has earned him unique credibility through his numerous creative endeavors.
Fred Mollin first came into international prominence as a record producer in the late 70's, producing numerous albums and singles, including the Grammy award-nominated "SOMETIMES WHEN WE TOUCH" by Dan Hill. In the early 80's Mollin based in L.A. and Toronto to start a 17 year run as a composer for television and film. His work has run the gamut from high tension (CBS-CBS TV's Gemini award-nominated child abuse drama "LIAR LIAR" and CBC's "LITTLE CRIMINALS", the award winning drama about young offenders) through fanciful flights of adventure (William Shatner's "TEKWAR" and USA Network's "BEYOND REALITY") to the darkest reaches of the medium (Paramount's "FRIDAY THE 13TH" television series and movies, and MGM-UA's "THE OUTER LIMITS"). His work on such cult series as Tri Star's "FOREVER KNIGHT" and hit mainstream series such as Fox's "BEVERLY HILLS 90210" and Paramount's "HARD COPY" were an integral part to the success of these classics of TV entertainment.
How did you get started playing guitar?
I started playing guitar when I was about 10, just playing some folk songs. I was also fully expecting to be the next Elvis Presley, and at the same time, I fell in love with drumming. Everything changed when I was 11 in 1964, like so many of my friends who have made music all their lives, it was like a thunderbolt hit me. The Beatles made their appearance in February 1964 on the Ed Sullivan show. I heard this incredible music, saw girls going crazy, looked at the guy playing drums and realized the guys in the front we're getting a lot more attention. At age 13, I got my first electric guitar, grew my hair long and my musical life really started, and playing guitar in my own bands was the first situation that told me that I was finally at home, in the most powerful sense!
Tell us about your current gigs?
I've been a record producer and musical arranger since I was 17 and have used my musical skills to help my artists make their masterpieces. I also did a 15-year run as a full-time film and TV composer, where I had to turn into a keyboard player!
Moved to Nashville in 2001, to go back to making records, as I felt it was still the best thing I do. I play guitar on many of the projects I produce, and that's always a great way to keep myself getting better and still learning. I don't think we ever stop learning guitar!
Current projects, run the gamut from producing records for a new and fabulous UK artist, Jo Harman. Just produced a duet with Amanda McBroom and Vince Gill, which is just being released now as a single. The song is "The Rose", which Amanda wrote in 1978 and is probably one of the world's most played songs in the history of modern music. Also, just played some gigs, using my Vintage Summer of Love guitar, with Jim Peterik, legendary rocker and songwriter, who songs include "Eye of the Tiger". As well, I'm just finishing writing and recording the theme song and score for a new animated Nickelodeon series.
How did you hear about Vintage Guitars?
I noticed a friend of mine, Larry Paxton, who is my regular bass player on pretty well every session I've done over the past 15 years, and he was playing this gorgeous Vintage butterscotch solid body during a break in a session, and I just fell in love with it. It turns out that everybody who plays in the Grand Ole Opry house band were all signing on to get this gorgeous V52, which was so beautifully aged that you swore it was found in a pawn shop! It is an awesome instrument.
What do you like most about our guitars?
I must tell you, what I love most about the Vintage line of guitars is pretty well everything! The design, the pickups by Trevor Wilkinson, and the feel of these solid body axes, just feel like magic. I have so many guitars, and I love certain models and certain brands, but Fret King and Vintage create their own special strength.
Any advice for players just getting started?
That's a tough question.
I believe that playing music, whether it's guitar, piano, drums, or anything, is a calling. It's almost like the priesthood. You don't have a choice. I never had a choice as I started playing music early and I knew it was the only thing I'd ever be able to do. I was very lucky as I started professionally at a time when it was a lot easier to be a producer or artist.
We are now living in times that are very challenging to be making a living in the studio either playing music or producing. This is a whole other conversation. We have become incredibly challenged now that recorded music is basically free. All I can say in this particular profile, is that if you live to play music and it's truly all you can do, there is beauty in that, and a life in music is a wonderful life, no matter how much money you make. It is your "calling".
To wrap this up, when you play a great guitar, and I don't care where it's manufactured or how much it costs, and you "live" to play guitar, it is a beautiful and loving thing.