Darnell Cole
Darnell Cole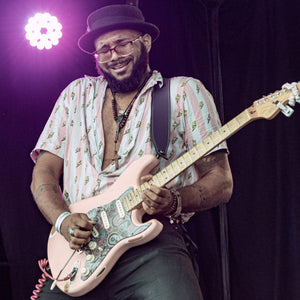 Darnell "Big D" Cole is the guitar/ lead vocalist of the High Energy Rock Blues Power Trio Porcelain Hill. Playing guitar since the age of 10, Big D blends different play styles to create a sound all his own, yet reminiscent of classic 70s rock and roll. Armed with a Vintage V6, spreading the message of love and peace, Big D and Porcelain Hill have been touring internationally, have a discography compiled of three studio albums, an EP, and are currently working on new singles.
How did you get started playing guitar?
I got started playing guitar from playing the bass. My parents are musicians and growing up I'd always be around them rehearsing etc. When they split up I went with my mom and she sorta stopped playing drums but when I'd visit my dad he had his music room. He'd always be playing guitar and I wanted to play along so I started learning the bass. Eventually I wanted to sing as well and at the time I didn't know about all the amazing bassist singers and so I started learning guitar. 16 years later and here we are.
Tell us about your current gigs?
The current gigs we have coming up are available on our website: www.porcelainhill.com haha
How did you hear about Vintage Guitars?
So circa 2017 and I'm walking around the NAMM showroom in Anaheim California. I walked past the booth and saw some of the V6 models and exclaimed "those are some nice strats" to which Dennis Drumm said "well they're much more than that" and boy was he right. I picked up the V6MRTBG and played it at that booth for the whole show. Great guitars.
What do you like most about our guitars?
The thing I love most about Vintage guitars: playing them. They're not guitar wannabes. Yes in design they may be modeled after some classic brands, but they truly are their own thing. Even shapes and configurations I'm less fond of somehow feel very fun and very good to play on stage. Out of the box Vintage guitars want to rock, and you can feel it. 
Any advice for players just getting started?
Have fun, try different generes, don't give up, and learn to love and use a metronome.